Group

5th Year Graduate Students
Scott Suter
Bradford Borge Fellow (2013)
B.S. Chemistry from Monmouth University, 2013
Email: srsuter@ucdavis.edu
 Bio: Scott went to undergrad at Monmouth University were he got a B.S. degree in chemistry. During his time there, he did research in Dr. Massimiliano Lamberto lab, where he researched napthtalene diamides to inhibit telomerase.

Scott is currently synthesizing different nucleobase modifications with the intent to incorporate them into RNAs to study their effects in RNAi and innate immunity with Toll-like receptors (TLRs). Scott is using molecular docking, and biochemical assays to evaluate the modifications he synthesizes.
4th Year Graduate Students
Cody Palumbo
NIH T32 Chemical Biology Predoctoral Fellow (2015-2017)
B.S. Chemistry from Colorado State University,  2014
Email: cmpalumbo@ucdavis.edu
    Bio: While at Colorado State University Cody worked 3.5 years as a mass spectroscopist. Cody also worked for Dr. Mellissa Reynolds synthesizing biopolymers.

Cody is now using organic synthesis to make modified nucleic acids that are capable of tethering and will use mass spectroscopy to screen for lead modifications to enhance binding of oligonucleotides to ADAR.

In September 2015, Cody was awarded a two year NIH predoctoral fellowship for Chemical Biology Cross-Training. During this fellowship, he did a 10 week rotation in Dr. David Segal's lab learning about genomic editing tools. Cody's rotation ultimately lead to a collaboration project trying to enhance the interactions between gRNA and Cas9.
Tim (Tiannan) Hu,
B.S. Applied Chemistry (emphasis chemical biology), Zhejiang University, China
Email: tnahu@ucdavis.edu
Bio; Tim's work focuses on two major problems of RNA therapeutics: immune response and off-target effect. His research aims at discovering novel RNA modifications that eliminate both immune response and off-target effect. In collaboration with Scott he has identified 7-deaza-8-azainosine as a new guanosine analog that neither strongly activates nor antagonizes TLR8, an important immune receptor responsible for RNA-induced immune response. Tools including cell-based assay and synthetic chemistry are frequently used in his research..
3rd Year Graduate Students
Leanna Monteleone
B.S. Biochemistry, California Polytechnic State University: San Luis Obispo, 2015
Bradford Borge Fellow 2015
Email: lrmonteleone@ucdavis.edu
 Bio: Leanna worked for Dr. Philip Costanzo for three years. Worked on controlling surface energy and wettability with a light responsive linker system. Also worked for Dr. Abraham Joy at the   University of Akron researching thermoresponsive, biodegradable polyesters. In the Beal lab, Leanna is creating ADAR2 mutants, and will use specifically modified bottom strands to achieve site directed editing.
SeHee Park
B.S Chemistry, Konkuk University, Seoul, Korea, 2015
Email: sehpark@ucdavis.edu
 Bio: Prior to joining the lab, Sehee worked on asymmetric synthesis using Crystallization Induced Dynamic Resolution(CIDR). Sehee is using her synthesis experience to create nucleoside analogs containing thiols.
2nd Year Graduate Students
Kevin Pham
B.S. Chemistry, UC- San Diego, 2014
 Bio: As an undergraduate at UC San Diego, Kevin worked in Dr. Michael Burkart's laboratory where he primarily focused on characterizing various homologs of a phosphodiesterase enzyme used in reversible labeling of proteins involved in natural product biosynthesis. After graduating in 2014, Kevin worked as a Research Associate in the Genomic Medicine department at the J. Craig Venter Institute (JCVI). His work at JCVI involved extracting human patient DNA samples for downstream high-throughput PCR and sequencing on next-generation sequencing platforms for human microbiome profile analysis.
1st Year Graduate Students
Erin Doherty
B.S. Biochemistry, California Polytechnic State University: San Luis Obispo, 2016
Email: eedoherty@ucdaivs.edu
 Bio: As an undergraduate at Cal Poly, Erin worked with Dr. Hasan Palandoken on the synthesis of molecules with alkoxyamine handles for 'click' chemistry incorporation to pharmaceutical analogs via an oxime ether linkage, as well as a methodology project developing a novel intramolecular rearrangement of oxime ethers.

In the Beal lab, Erin will be working on the identification and synthesis of ADAR2 inhibitors using molecular docking studies.
Madeline Mumbleau
  Bio: Madeline joined the lab of Fall 2015 and is getting her degree in Pharmaceutical Chemistry at UC-Davis. Madeline is working under the guidance of Scott to make RNA modifications via click-chemistry and then study them through crystallography.
Undergraduate Students
Yao Chiang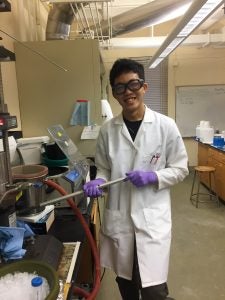 Jeton Gutierrez-Bujari