The Beal lab is committed to promote and support diversity and its inclusion in every aspect of the lab's culture.
Studies have consistently shown that diversity and inclusion are conducive to innovation and success. Research in the Beal lab has only been possible with a diverse set of members, current and past, who have various backgrounds, identities, national origins, and experiences. Through mutual respect and understanding, our goal is to continue fostering an environment where all members of the lab are unhampered in their development and in the pursuit of their goals. Diversity, and the celebration of individual and unique identities are not only a part of our lab culture, but also fundamental aspects for our innovation, achievements and spirit.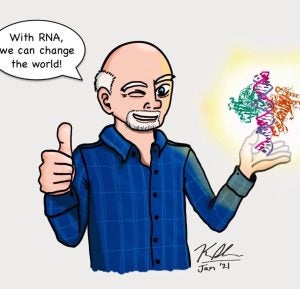 Students and postdocs working in the Beal laboratory use synthetic chemistry to study and control ribonucleic acids (RNAs). Our work is advancing understanding of essential basic science principles of RNA structure and recognition and is providing a platform for the development of new medicines targeting RNA or RNA-binding proteins. We create new RNA molecules by chemical synthesis with nucleoside analogs, introducing novel and desirable features. In addition, we synthesize new compounds capable of perturbing natural RNA function or the function of RNA-modifying enzymes. We are currently applying these approaches to the study of RNA-editing adenosine deaminases and RNA interference by short interfering RNAs (siRNAs).
For a detailed description of this work, please visit our "Projects" link.
You may also check out this virtual tour of UC Davis College of Letters and Science featuring the Beal lab (situated in the Chemistry Annex building) through this link: Beal Lab 360.
Follow us on Instagram: @beallabucd